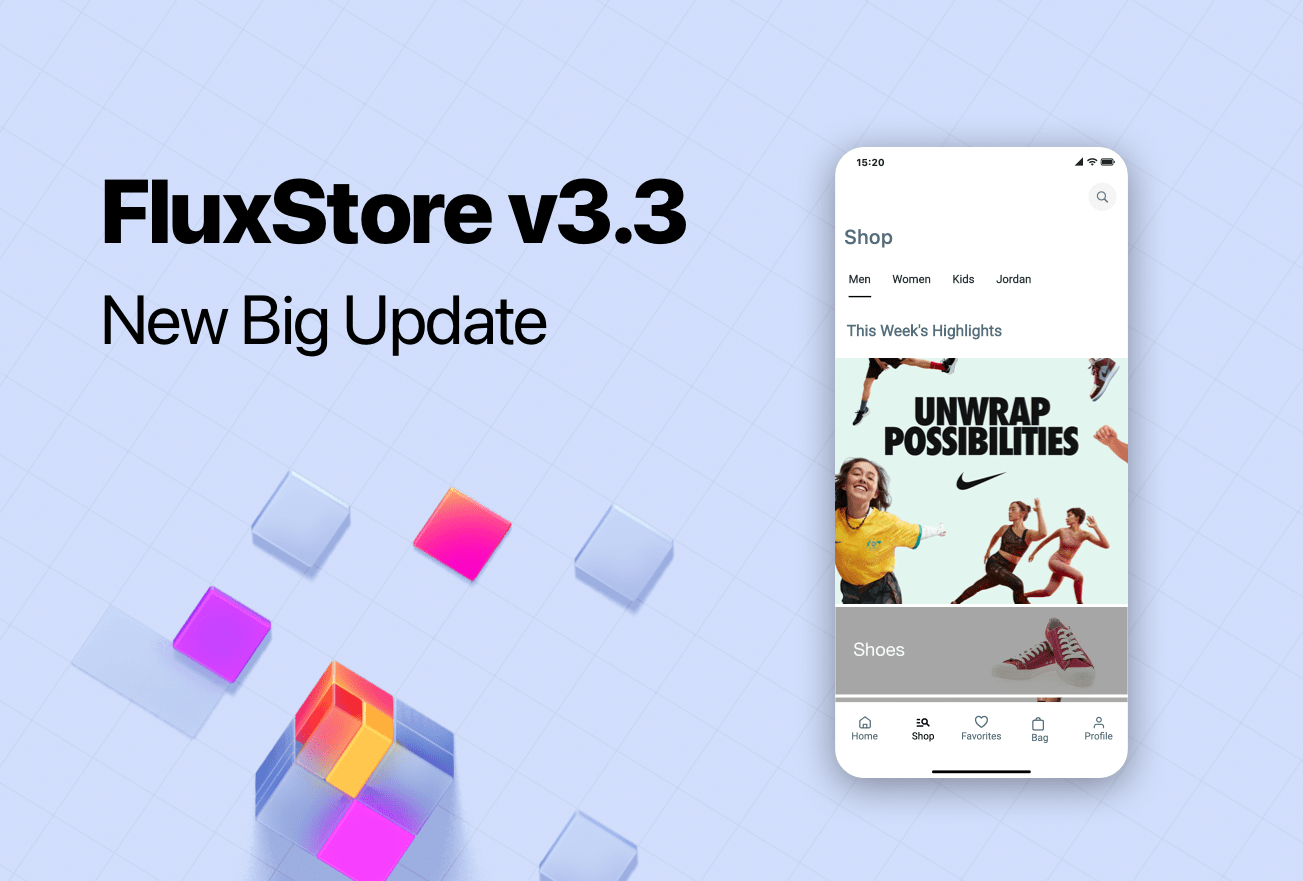 Hi friends, InspireUI here with a big bag of improvement in the latest FluxStore release.
First of all, we would like to thank you for putting your trust in InspireUI and our FluxStore products ❤️. We're here to help you get your business better optimized, and excited to do our part in maintaining and upgrading the products to be more powerful, flexible, and high-performance. 

❇️ 

What news in FluxStore v3.3 ?

The release includes 148 merge requests including a lot of new features and important improvements. 

New features
❇️ New 2x performance improvement.
❇️ Easy & simply upgrade - see changelog
❇️ New TabMenu & Scrollable layout - see video
❇️ New Smart Engagement Banner - see video
❇️ Vertical Product Gallery - see video
❇️ Compatible with new FluxBuilder 1.6.x - see changelog
❇️ Show SMS Login screen by Default.
❇️ Upgrade Category layout
❇️ Upgrade Product Detail themes.
❇️ New Phone Number Config.
❇️ Youtube video in Product Detail
❇️ New Languages: 🇦🇿 Azerbaijan, Urdu
➡️  Important improvements
Compatible with

latest Flutter 3.3.x.

Limit Login Attempts Reloaded.
Cart icon for LTR and RTL
Support Android 13.
Ability to add Notes with Link on Order.
Upgrade all pubspec Libraries to latest.
Fix TikTok videos not load.
Fix video on TikTok that are stretched.
Fix general web item not update when login.
Fix multi language for brands.
Fix category product list.
Fix cannot update menu label.
Fix stuck at empty splash screen when isCaching config not loaded
Fix tap payment issue
Fix wrong shipping fee
Fix: max allow quantity when add product
Fix choose time of booking don't appear
Fix the app does not request permission push notification
Fix wrong currency in paystack payment
Fix total cart for subscription
Fix: click text story
Fix login for webview
Fix point redemption when create order
Fix defaultCurrency symbol in textField when editing product
Fix vertical layout column with filter UI
Fix missing author data of blog
Fix minor bugs in sms login
Fix AutoUpdate
And more detail via Changelog...
🔑 How to Activate the Product?
Once download the new package, please follow this step to activate the product:
⬇️ Download Product
Free FluxBuilder (App Builder)

FluxStore Apps

👉 Detail Changelog